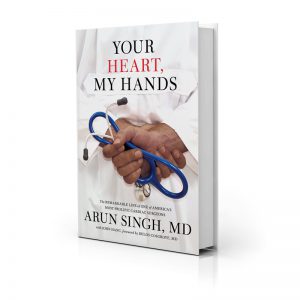 In 2019, Arun Singh, M.D., an immigrant in USA, will release an incredible book which reveals Dr. Singh's remarkable odyssey, immigrant experience, memorable patients, and revealing operating room secrets. This incredible surgeon performed 15,000+ open-heart surgeries and received numerous awards. Please enjoy the excerpt below from the working manuscript (still in editing) of Your Heart, My Hand.
Excerpt from Your Heart, My Hands Introduction
The patient will not survive.
I realize this, and yet I cannot stop. I continue to cut and slice my way through ribbons of tissue and plateaus of fat. The scalpel and retractor are like extensions of my hands, as I probe and advance to the aortic valve—the gatekeeper of the heart, which allows blood to flow efficiently, unless it becomes calcified and narrowed like a clogged-up oil filter.
That's where I come in. I am removing that valve and replacing it with an artificial one.
Made of titanium and designed to last a lifetime, this simple object will keep the blood flowing,
but inserting it is a meticulous and time-consuming, if routine, operation.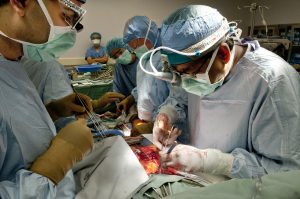 Carefully, I lower the valve into the aorta: the slow, graceful descent and its capsular shape remind me of the lunar module. It's as if the Eagle is landing, except this time on a flesh-and-blood surface. I carefully begin the threading of the stitches, typically about 15 to 22, used to secure the valve in position.
In a normal procedure of this type, there would be a moment of high-tech genesis, when the patient's heart, having been stopped for the operation in order to give the surgeon a clear, blood-free view, is now restarted like a computer. The flat-lines on the EKG begin to spasm, slowly but surely signaling a return to life. And then a miraculous moment: On the echo cardiogram monitor, part of the assemblage of monitors and imaging devices set in the modern operating room, there is a flicker of movement as the mechanical valve, each of its two crescent- shaped flaps, size of quarter. It's the valve beginning to function. Doing its new job, which is essentially to keep a human being alive.
The surgeon will go anywhere" I declare.
As a heart surgeon, I have followed pathways beyond the arterial. I have gone to some amazing places; tested emotional and physical limits, both mine and my patients; experienced harrowing and awe-inspiring trauma and triumph. I invite you now to come with me as I revisit them, tell you the story of how the boy with the paralyzed hand and undiagnosed dyslexia went on to perform over 15,000 cardiac surgeries, and introduce you to the people whose hearts were entrusted to my hands. Learn how patients impacted my life and how I impacted theirs life.
---